Wood Flooring Photo Gallery
Brand Overview
---

---
Profile
|
Website
Welcome to L.W. Mountain, where your needs are our top priority.
---

---
Profile
|
Website
|
Warranty
|
Install
|
Maintain
|
FAQs
Somerset Wood Products is one of the largest manufacturers of Appalachian lumber and flooring in the midwest. Our corporate headquarters is located in Somerset, KY. We have two supporting production facilities, also located in the Somerset area, with a staff of over 300 employees. We also employ a full time forester, to oversee responsible forestry management practices that exceed Best Management Practice standards.
Wood Flooring
Wood flooring is timeless. It enhances the warmth of any home and complements the decor of any room.
Like a fine piece of furniture, wood flooring increases in value and becomes more beautiful with time. In a national survey, 90 percent of real estate agents said that houses with wood flooring sell faster and for more money.
Wood is a natural resource, renewable and recyclable. Buildings, barns, ships and other structures made of wood often find a second life in wood flooring, cabinets, walls and ceilings. And leading allergists agree that wood floors are the perfect choice for a healthy home.
The state-of-the-art technology and almost limitless choices of today's stains, finishes, styles and designs make wood flooring one of the most practical, easy-care and versatile floor coverings today. Maintained properly, wood flooring should never have to be replaced.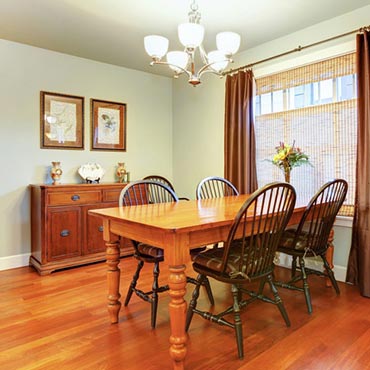 Education Links
Learn More
At The Flooring Center LLC we believe an educated consumer is our best customer.